The SimCon Award Winners for 2019 were presented by Rachel Riley during the evening of 7th February.
The winners were;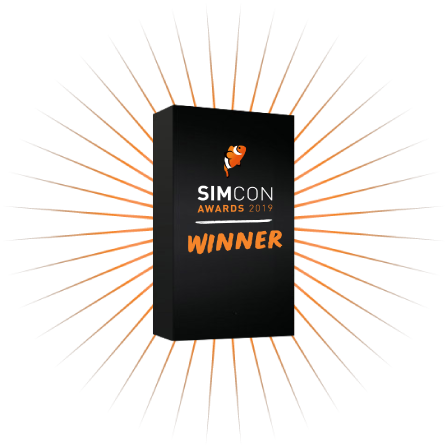 Yay.com were recognised for 'Awesome Execution'; in how they very impressively executed their launch plan and achieved their objectives, given the size of their team. An exemplary demonstration of how 'it should be done.'
In contrast, CircleLoop received the 'Kick-ass New Entrant' award for similar success, but achieved very differently. Operating in stealth mode for some time, CircleLoop suddenly seemed to explode onto the scene, achieving commercial success with astonishing speed.
Dan Jenkins was appropriately awarded the 'Pride of Britain' for conceiving and delivering the highly successful CommCon Conference. He also did so with a quintessentially British flavour, creating a memorable experience, particularly for those from abroad - and made us all proud to be British!
Fred Posner was acclaimed as a genuine 'Pre-Posthumous Legend', a selfless, long standing contributor and supporter of the open-source community who has never sought the limelight. "We all love Fred. He really epitomises what these awards are all about", commented Simon Woodhead.
Kamailio were awarded 'Open Source Excellence', a key reason being the superb management of the project. Kamailio is used within huge networks and really is the secret weapon of many modern telcos. It is open source and, in the judges' opinion, one of the best run projects around.
Drachtio deservedly was selected as the 'Most Exciting New Open Source Project'. Offering a completely new way architecture and being far more developer-friendly, Drachtio opens up huge possibilities for the rapid development of amazing services.
Sangoma were rightly recognised as 'Open Source Guardians' for their continued commitment and investment in safeguarding the open source community. Firstly by keeping both Asterisk's and FreePBX's development in open source and maintaining engagement with developers, but now also for their strategic commitment to Digium products, customers and partners around the globe.
SimCon is an annual event at Simwood's HQ in Bristol, bringing the best speakers from around the community as well as covering in depth topics of relevance to Simwood's customers.